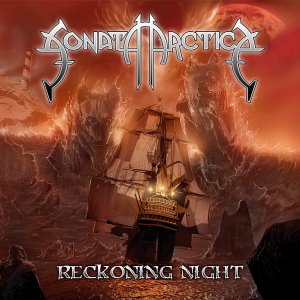 レコニング・ナイト
収録曲:
Misplaced
Blinded No More
Ain't Your Fairytale
Reckoning Day, Reckoning Night
Don't Say A Word
The Boy Who Wanted To Be A Real Puppet
My Selene
Wildfire
White Pearl, Black Oceans ...
Shamandalie
Wrecking The Sphere *
Jam (hidden track)
* 日本盤ボーナストラック
メンバー:
Tony Kakko (Vocals / Backing vocals)
Jani Liimatainen (Guitars
Tommy Portimo (Drums)
Marko Paasikoski (Bass)
Henrik Klingenberg (Keyboards)
追加情報:
The MAN on "Don't Say a Word", "White Pearl, Black Ocean" and "Wildfire" by Nik Van Eckmann
All music and lyrics by T. Kakko
except for "My Selene" music and lyrics by Jani Liimatainen
All music arrangements by Sonata Arctica
All vocal arrangements by T. Kakko
The mostharmonic woowoo-choirs and additionalnackground noise performed by Sonatarmeija-Wilderness choir.
Recorded at Tico Tico Studio, by Ahti "Viheltääääääää...khh khhhhhh!" Kortelainen during March, April and June 2004.
Mixed at Finnvox Studios by Mikko "Hevikabaree???" Karmila.
Mastered at Finnvox Studios by Mika "bluelight" Jussila, June 2004.
Produced by Sonata Arctica
Artwork by Janne "ToxicAngel" Pitkänen
Art "Misdirection" by T. Kakko
Band photography by Toni "Varokaa, se on Canon!" Härkönen